Top 10 Blogging Issues - PART 1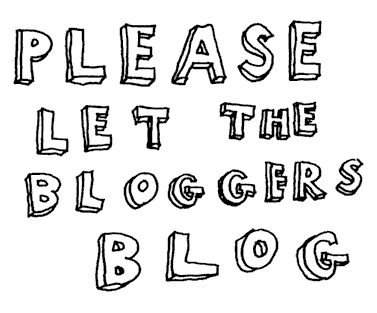 Inspired by the post we wrote for the
MAD Awards
, we wanted to write a post about common blogging mistakes. We've collated some of the most common, blog-destroying mistakes that we could find all and put them into a nice little list of 10. These are quintessential roadblocks or dodgy areas that you need to be avoiding as a blogger, sandbars to steer clear of as you sail the good ship
HMS Blogger
to clear waters.
So, here it is, arranged in handy categories, each containing a few things to watch out for. These are all mistakes bloggers have admitted to making on their blogs. We're going up in importance with each subheading, but that's only our opinion. You may think differently!
#1 ADVERTISING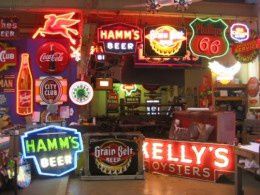 Advertising on a blog should be governed at all times by one philosophy: moderation. Too many ads make your page look, as one blogger put it, like a cheap Las Vegas; Flash banners all over the place that don't stop moving, helping your blog to achieve load times of 10-20 seconds. Not good. This hinders your design too, making you look very amateur.
I'm going to put design in here as well. As advertising on a blog generally governs its look, let's talk about look as well. Browse the blogosphere, and after an hour or so you'll find that a lot of design templates (especially on Blogger-hosted blogs) are used again and again. If you do use a template, at least change the background image or colour, and try to change the font rather than using the default. Avoid like the plague moving .gifs unless they are used for humour in a post. An extreme example of how not to present your blog can be found at
www.theworldsworstwebsiteever.com
.
The key is balance. If you want to advertise from day one, do so, but sensibly. A few ads in your sidebar aren't going to put anyone off. Also, even if you do only blog for the money, it's probably not good to broadcast this fact. Readers are named so because they read, and don't really care to hear about you making money.
#2 PLATFORM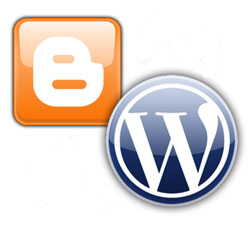 Choosing a platform should be pretty important. You may even be running your blog on a platform that you'd like to change from. In that case, you need to do some research. Five of the most common we come across are
Wordpress
(offering free and paid-for services),
Blogger
,
Tumblr
,
TypePad
, and
Posterous
. Each has its own benefits and it's crucial to do at least a bit of research. Wordpress, for example, is great for its dashboard and general inner workings - this blog is run on Wordpress.org, for instance - but if you want something simple and quick, Tumblr can work wonders (
http://originofcool.tumblr.com
is one such example). It's all up to you and what you want your blog to be. There are plenty more platforms out there. Check out
Mashable's list of 40+ blogging platforms
for a vague idea.
There's a blogging platform in our lovely Wikio Group family, too. This is
OverBlog
- founded in France, they merged with Wikio and ebuzzing in October 2010. It's very user-friendly and great for SEO, as your blog is added into OverBlog's own designated portal. Well worth your consideration.
#3 RSS
Making new content hard to discover is a major fail. Why write if no one's going to see it? A big mistake is not using a full RSS feed to allow your content to be aggregated by various sites, such as
NewsGator
. Another way of utilising RSS feeds for your benefit is to allow your readers to subscribe to your feed; something like
FeedBurner
will help you to set this up. Again, do your research and have a look around for the best solutions.
#4 BLOGOSPHERE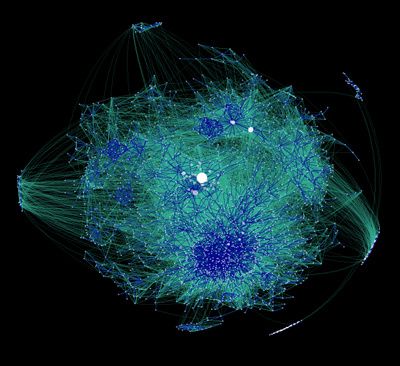 The above picture is a 'map' of the Blogosphere - all blogs and their interconnections. You're a blogger. It only makes sense that you should be connecting with other bloggers. The simplest way to start here is to read other blogs, not only for ideas for your own blog (conduct, design, content, etc.). From here you can comment on other people's blog, giving you exposure as a blogger who is actively involved in the blogging community, and also providing your own blog with visibility via your hyperlinked username. On the other hand, building relationships via email, linking to other blogs, link-swapping, are all great ways to get you noticed in your relevant blogging category. This is perfect as the audience is already there, it's just a case of diverting their attention to your blog as well as hundreds of others that they read.
Be careful not to become a link-begger. If someone doesn't want to swap with you, fair enough. Know when to stop pestering, but make sure you start making those relationships without seeming overkeen. In addition to this, sign up to relevant blogging communities, for example, fashion bloggers should go straight to
Independent Fashion Bloggers
, mummy bloggers to
British Mummy Bloggers
. Hey presto, more exposure, and interest from fellow bloggers. All bloggers should sign up with
Bloglovin'
.
#5 SOCIAL MEDIA
In this day and age, how can you not use social media to its full potential? It's very crucial. And it's a big mistake to not have a Twitter account to accompany your blog (separate from personal), as well as a Facebook fanpage. From these two excellent platforms you can begin to not only market yourself by growing a committed following and providing a very social, personal bridge between you and the blog. It's a fantastic way to organise your blog's following in one place; perfect for promotions, a really cool feature, or even a competition.
You can also follow other bloggers, get involved in discussions, and make sure you're up-to-date with news in your relevant area of interest. You could easily find content (more of that later) for your blog every day by following interesting people on Twitter. Do be aware that not everyone on Twitter wants to be as social as you, so be careful not to pester too much for a following or a blog-read. Everything is public, and being snubbed in public by a fellow, more influential blogger - for example - wouldn't be a great thing for your reputation.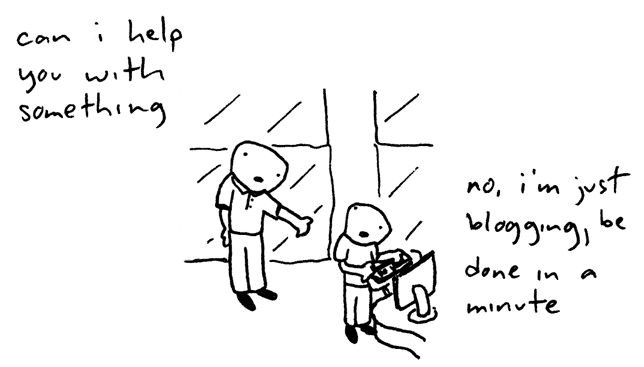 So that's all for now folks
, five causes for concern, consideration, and care. Do you agree, or are these five higher up in your list of blogging priorities? Comment below or contact
Russell
if you'd like to make some suggestions for the blog, or ask any questions at all.
Visit here around lunchtime tomorrow for the second instalment of ebuzzing's Top 10 Blogging Issues, which include our thoughts on time management, readership, and more. It's going to be a big'un.
- - - - - - -
Note: Images used are in no way ours and we use them as illustrations, please get in touch if something you've created is up here. Credit goes to Toothpaste For Dinner for the last image, and probably one in the next post.