Buzz Story: 2012 Paris Motor Show
The Paris Motor Show took place between the 29th September and 14th of October and received a huge 1.4 million visitors keen to see the likes of Porchse, Renault, Lamborghini and Toyota. We decided to take a look at how the interest turned into online buzz for all the car lovers out there.
European Overview
60.7% of all publications were generated from the UK, indicating high public interest, while the Italians were the least involved, producing only 0.6% of the total publications. Spain, France and Germany followed the UK with 17.1%, 13.9% and 7.7% of all publications generated.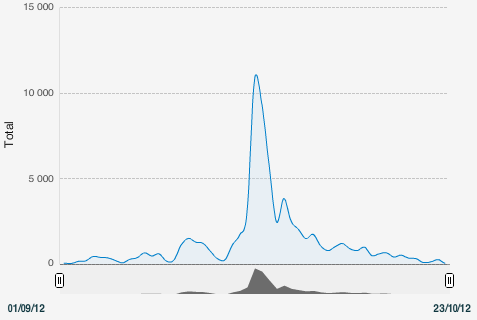 The number of publications spiked on the 27th September, this was probably due to journalists attending the press day which was held two days before the event was open to the general public.
Many blogs that posted about the event were key influencers, 350 featured in the top 50 of their corresponding categories on the Ebuzzing labs.
UK Focus
Overall the media coverage in the UK amounted to a media equivalent of £500,000. Here's how the money was 'spent'
Twitter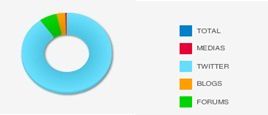 Show-goers were tweeting away and Twitter represents 90% of total publications. This is unsurprising as it includes all posts published in English. Forums come in second with 6.2% and blogs third with 2.9%.
Wired, Forbes, FrencHMonTonA, tsairox and funkmaster were the top 5 most influential Twitter accounts, in total 13,606 authors published to 38 million followers.
Blogs
No prizes for guessing which blog category posted about the Paris Motorshow the most often. After automotive, other categories included online marketing, environment, design and fashion. The blog which published the most stories about the show was "CarandDriver" which posted over 50 articles about the event.
Brand Comparison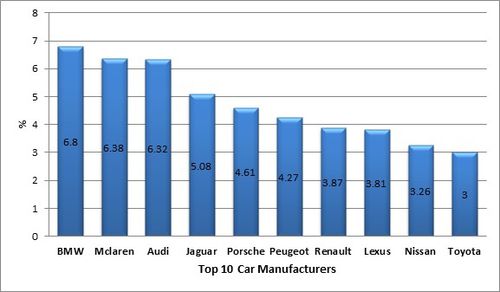 No unusual brands here - BMW, McLaren and Audi are the three most talked about brands, together featuring in 19.5% of all publications. BMW comes first having featured in almost 7% of all publications referring to the Paris Motor Show.
We're looking forward to seeing how the buzz develops around the Paris Motor Show next year!