Discover our new social video dashboard
We have some great news that we are very excited to share with you all. Over the summer we have been working on developing a state-of-the-art social video dashboard that has been specifially designed to transform the measurement of video campaigns providing new metrics for quanitfying and qualifying ROI which has now launched! By utlising our technology we measure reach, impact, tonality, conversation sentiment and the share of voice of a social video campaign, providing brands with an accurate picture of the true value of their campaign.

Our new dashbaord has three key objectives:
Improving the

usability

of the interface to simplify access to the results of your campaign

Improve

data visualization

to facilitate reading and highlighting key figures

Adding

new metrics

to help you better understand the impact of your campaign

Usability
The first page which the user connects to is a summary page, which provides an overview of the campaign. It is divided into 3 parts:

1. The summary of the campaign: views, clicks, shares, impressions.

2. The Earned Media section which reports the contacts gained via social media (Facebook, blogs, media and Twitter)

3. The analytical part shows the competitive share of voice, tone and comments

These aspects are then detailed in the dedicated tabs:

Our R&D team have also been working on:
A reminder of recent publications that cite your campaign with direct access to source documents on different media (blogs, media, twitter, forums, reviews)

Interactive graphics e.g. zooming in on specific periods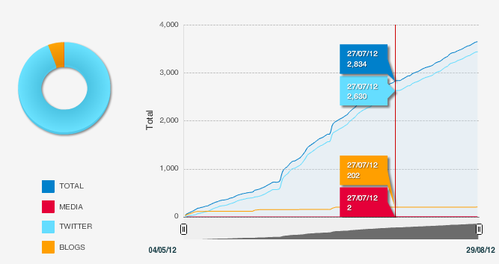 Data Visualization
Through our graphical illustrations, we showcase key performance indicators of your campaign:
Time curve

Tone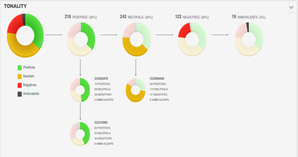 Equivalent Media

Competitive share of voice

New indicators
We have developed new indicators to help you understand the scope of your campaigns. Here is an example of two of the most recent additions to the dashboard:

Facebook OTS:
We analyse the potential number of people who have seen your campaign through the Facebook sharing actions:

The formula is simple: the number of shares of shares * 150 (average number of friends) * 16% (edgerank effect: algorithm which Facebook uses to determine what appears in their users' news feeds)

Influential blogs

We show you the influential blogs that have mentioned your campaign. We value the highest ranked, the category to which they belong and the number of articles published.

And this is only the beginning! We have lots more developments coming up with our dashboard so stay tuned...

Some new additions coming up:
Results to a dedicated tab facebook
New video analysis (relative to benchmark sector videos)
For the official press release please see here.