Ebuzzing November Blogger of the Month
Blogging is the most sustainable way to publish written content these days; in a world where companies are holding off using paper so much, and beginning to show more consideration towards the environment, blogs might be the answer to wide scale publication. With that in mind, we introduce our Blogger of the Month for November, Rachelle Strauss, writer and owner of two very green blogs: My Zero Waste and Little Green Blog.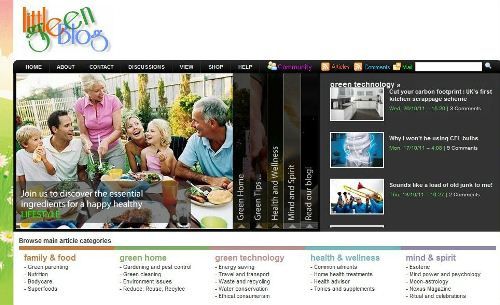 Rachelle started writing on the internet in 2001, and her reasoning for doing so is very simple: she wanted to change the world. And it seems that, little by little, she might be doing just that.

"Blogging is a great way to reach a community of people you might otherwise not get the opportunity to reach," she told us. "The world of green is changing all the time, from new theories on climate change to changing technology, so blogging enables us to keep up with the latest research and trends at the push of a button."

It's the instantaneous nature of blogging that is helping to shape an increasingly switched-on and informed readership, and it's people like Rachelle - alongside her husband Richard who also runs and writes for the sites - who are helping to improve the wider public's awareness of the world around us. And these readers are no longer passive entities who simply absorb what they read - there's now a level of interactivity that adds great value to the blog, and even more to the blog's writer.

We here at Ebuzzing love Rachelle's blogs and her writing. She gave us three golden rules that she has blogged by since day one. We think they're worth hearing, so have decided to share them with our own lovely readers:

Blogging daily
"In the early days I used to blog daily. This meant my sites were being updated with regular, fresh content which drew people back to the site."

Honesty
"People like my honesty. I say it how it is, share where I've made mistakes, as well as what I've done well."

Interacting
"When someone comments on my blog, I treat them as if they've walked into my house. I have found my voice - I'm authoritative, but reachable. I'm not afraid to be fallible."

Readers certainly like to be heard; and it's even better to be heard by someone who wants to listen - someone like Rachelle. "I love hearing from the people who read the blog," she explained. "They'll find words that inspire them to make changes in their own lives or they are eager to share parts of their lives with someone who will celebrate with them." This is the strength of blogging; for the green cause, this kind of tight-knit community feel is crucial to its progression.

These are the kinds of groups of people who would take good advice, too; Rachelle encourages readers "to take tiny steps in the belief that lots of small steps can add up to significant positive changes," those readers then in turn share with her what they are doing to make a change. "I feel honored by that," Rachelle tells us, "Hearing from readers always brings a smile to my face."

Rachelle is definitely making an impact and informing a very large number of people on how they, too, can make little changes in their lives. We'd like to thank her for all the wonderful work she's put into the articles she has written for us and hope that she continues working with us as a valued member of the Ebuzzing community.

Check our Rachelle's great posts at Little Green Blog and My Zero Waste.
--
If you enjoyed reading this post, then subscribe to our RSS feed for the latest on the Ebuzzing blog. Leave us a comment below to let us know your opinion on today's post.