Ebuzzing Social's Oscar Prediction
Sunday night brings the 85th Academy Awards, the most prestigious accolade in the film industry. Starting on the 4th February, Ebuzzing Social looked at the buzz around each of the nominees for Best Picture, Best Director, Best Actor and Best Actress to predict who is going to take home an Oscar.
Best Picture
Nominees
Argo
Lincoln
Zero Dark Thirty
Silver Linings Playbook
Life of Pi
Amour
Django Unchained
Les Miserables
Beast of the Southern Wild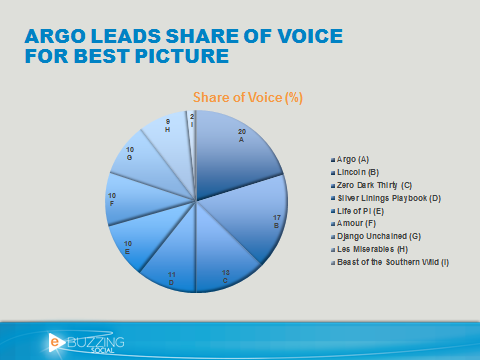 This is the tightest category with only 3% difference between Argo and Lincoln. If Argo wins it will be only the fourth film to win Best Picture without its director (Ben Affleck) being nominated for Best Director. As Argo has already picked up Best Picture at the Golden Globes and BAFTA's we predict that Argo will be making history this Sunday.
Best Director
Nominees
Ang Lee - Life of Pi
Steven Spielberg - Lincoln
Michael Haneke - Amour
David O'Russell - Silver Linings Playbook
Benh Zeitlin - Beast of the Southern WIld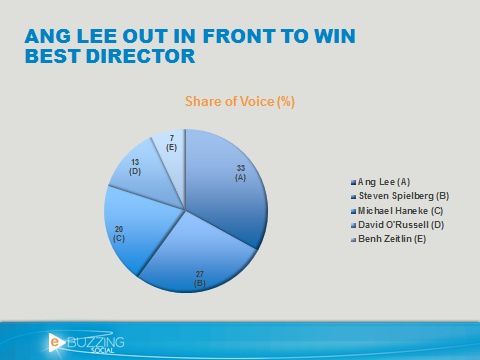 Again another close category with just 6% difference between Ang Lee in first and Steven Spielberg in second. Both directors have enjoyed Oscar success before, Lee has been nominated 6 times and won Best Director for Brokeback Mountain while Spielberg has 12 nominations and 4 wins up his sleeve. With over a third of the SOV we predict that Ang Lee will sneak the award.
Best Actor
Nominees
Daniel Day Lewis – Lincoln
Bradley Cooper – Silver Linings Playbook
Hugh Jackman – Les Miserables

Joaquin Phoenix – The Master

Denzel Washington – Flight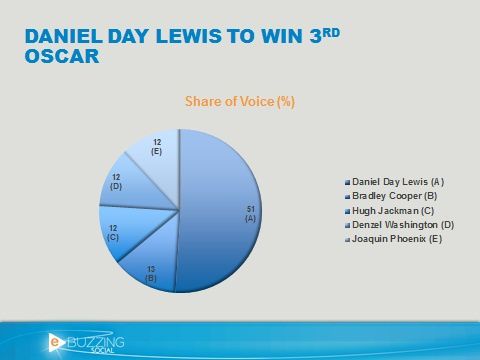 There's a clear winner here in Daniel Day Lewis. He has over 50% of the share of voice and has already won Best Actor at the Golden Globes and BAFTAs. With two Oscars already under his belt we can't see any upsets in this category.
Best Actress
Nominees
Jennifer Lawrence – Silver Lining's Playbook

Jessica Chastain – Zero Dark Thirty

Emmanuelle Riva – Amour

Naomi Watts – The Impossible

Quvenzhané Wallis

–

Beast of the Southern Wild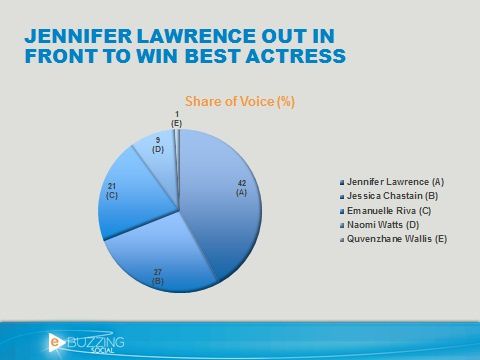 Best Actress this year features the oldest ever nominee (Emmanuelle Riva at 85) and the youngest (Quvenzhané Wallis who was just 6 when she filmed Beast of the Southern Wild). Jennifer Lawrence is the overall favourite in this category, with over 43% of the share of voice and winner at the Golden Globes, we think she will emerge victorious on Sunday night.
We're looking forward to seeing if our predictions were right on Sunday!