At Ebuzzing Social we like to make life easy for our bloggers, that's why we've introduced the Kiosk. Implemented like any other normal embed code, the Kiosk gives you a video space that will automatically rotate between our available campaigns. This means you can take part in all our campaigns with a single code and have a permanent advertising space on your site.
Our video team have explained everything you need to know to get the Kiosk in 6 easy steps.
Step 1
Log into your Ebuzzing Social account at http://social.ebuzzing.co.uk/
Step 2
On your dashboard click the 'Manage' button at the right of the 'Ebuzzing Kiosk' campaign.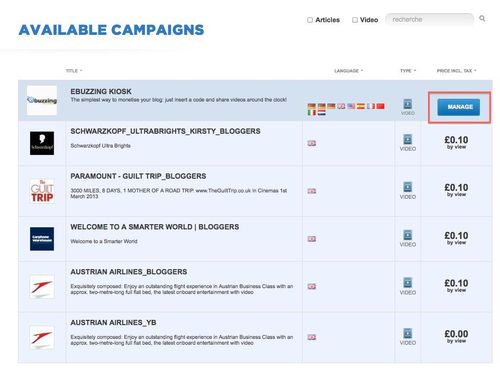 Step 3
Select your setting from the options at the top left next to the video.
If you have multiple sites ensure you select the correct on from the 'Your Site' drop-down menu
Select your player size, ensure that it properly fits the design of your site. If should be as big as possible without overlapping other elements or running outside of any sidebar.
Step 4
Put in a fallback code
The fallback code option allows you to put in an alternative code that will be displayed if there are no Ebuzzing videos available. We strongly suggest using this.
Almost any Adsense, affiliation or other video platform code can be placed here (you should make sure the dimensions match that of the Kiosk). This way you can be sure the space is never wasted.
Simply tick the 'Active' box and paste your code into the 'Fallback code' box.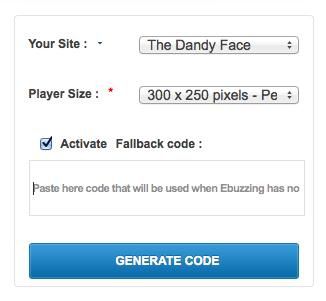 Step 5
Generate your code
Click the 'Generate Code' button. Then copy and paste the embed code into the appropriate area of your website.
Step 6
Customise your campaigns
Your Kiosk is now set up and will automatically display our available campaigns on your site. As noted above, only campaigns whose targeting matches your site categories will be displayed.
Sometimes you may not want a certain campaign to be displayed. You can disable or enable a campaign with the check-box at the right of the 'Your Kiosk Column' section, under the 'active' header.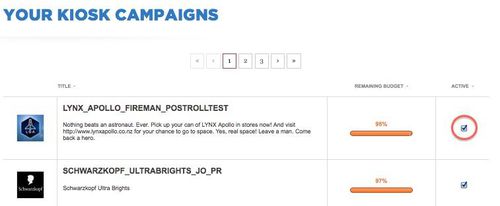 FAQ's
Do I still need one off campaign videos?
We recommend that you continue to use our standard single-campaign videos. In editorials you will need to use a single-campaign video. You may also wish to emphasis the campaign by placing these videos next to specific related articles, or to make sure a specific campaign is prominently promoted.
Are Kiosk units targeted?
Kiosk units are targeted to the categories assigned to your site. So only campaigns with targets that match your categories will be displayed.
If you have any other questions or any technical problems with the code please get in touch with your Ebuzzing Social Community Manager.