iStrategy London 2012: Key Takeaways from Ebuzzing

Last week we attended iStrategy London, a digital marketing event taking place over two sunny days at Chelsea FC's Stamford Bridge. The keynote speakers amazed the delegation, the lunches impressed, and the event even managed to trend on Twitter during its first day with the hashtag #iStrategy. It was quite an event, and we're pleased to see that online video and content creation, were two topics right at the heart of the conversation.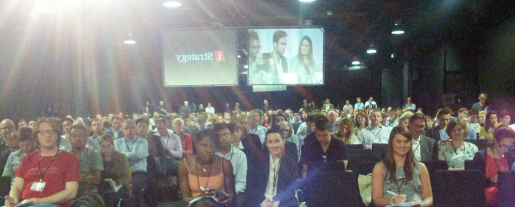 The event opened with a keynote from Brian Solis, a leading voice in the industry, renowned for his no-nonsense approach to digital marketing and insightful speeches. Frictionless sharing, powered by mobile bridging the gap between the online and offline worlds was the theme of the day. According to Solis, in order for brands to leverage this new era they must create content that their community finds so interesting they are compelled to share it with their own community. Relevance, resonance, and significance will reign supreme in this new era of frictionless sharing. Check out the Dollar Shave Club video for a great example of the type of content that Solis was talking about:
Day 2 of the conference brought us another great keynote speaker in the form of Alexander Koppel, Chief Commercial Officer at Red Bull Media House. Red Bull is the third most influential social brand globally, with 28 million fans on Facebook alone. This is quite an achievement, which definitely helped to define the brand as a social powerhouse to the delegation. So, how has the brand managed to be so successful within the social landscape. Like Solis, Koppel 's main point was all about content creation being key for brands. Red Bull create their own content all the time, featuring brand advocates and extreme sports players, which the brand has helped to cultivate into international stars. The Art of Flight video is one such example of the type of content Red Bull produce, which resonates well with target audiences and creates engagement.
As you can see video plays a key part in the content creation strategies of top social brands. For our part, Ebuzzing educated the delegation on social video through our workshop Social Meets Video: Unlocking Advertising Potential on Day 1 and the Online Video panel session on Day 2.
Andrea Febbraio, CEO of Ebuzzing's Italian operations led our social video workshop, explaining to delegates how video has become the most engaging visual advertising format. Video is great because it doesn't need to be big budget to have an impact. Creating imaginative content that helps your brand to connect with viewers is what makes a video the best format right now. Rebecca Powell, VP of Global Marketing at Ebuzzing shared the example of T-Mobile's Welcome Back video to get this point across during the online video panel.
Andrea gave the workshop audience the ingredients for the perfect social video advertising cocktail mix. Once you have great content you need to make sure that it's distributed in brand-safe environments via the most influential social publishers, Facebook apps, YouTube and mobile. Since only 0.1% of videos on YouTube go viral, it's essential that you distribute your content in the right places. The most important metric for social video is engagement, which comes from your brand's video content being shared, liked, and commented on within the social web . For example, when you look at Facebook games, the average gamer is a woman aged 35-45 who would have to use her credit card to get onto the next level, get another crop, etc. However, what social video allows is a value exchange that gives the gamer what they want for free, and the brand a chance to get in front of its target audience in a non-intrusive way. Since the gamer has chosen to watch the video they have a positive feeling towards the brand, which shows, as the sharing rate for Facebook gamers is 3 x higher than outside of a social environment.
Social Video is the next big thing for the online video industry, with a 50% increase in ad spend according to the latest IAB and pwc joint research. Harry Davies from Google, who also sat on the Online Video panel, shared some best practice for online video content; the best thing to do is to be innovative and interesting. The 2nd Tippex experience video is a great example of this, as it has helped the brand to forge relationships with old and new brand advocates by giving viewers a really great experience.
The overall mantra to remember from the Ebuzzing team is that when it comes to social video:
Content is King, but Distribution is Queen
Brands must remember to tell a story with their video content, rather than pushing their brand and make sure their video is distributed in the best spots on the social web high street, rather than hidden down a back alley, in order to gain maximum brand engagement.