Olympic Social Media Madness!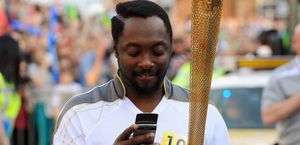 Even a quick look at the picture of Will.I.Am tweeting while holding the Olympic torch is enough to understand that we are officially in the middle of an Olympic craze! It is all about the Olympics in London right now! As a Londoner you are surrounded by the Olympics-themed everything: clothing, accessories, drinks and even chocolate; and you feel a part of history in the making.

However, this picture has another meaning that relates to the fact that the Olympic Games have become increasingly social.

Therefore, this blog post is devoted to the role of social media in the most-connected 2012 London Olympic Games yet. This year viewers have the opportunity not only to see how athletes compete, but also to learn about their personal story that led to the participation in such a career-defining event. Specially developed applications, created social media team/event/personal pages provide opportunity for everyone to be involved in such a global event on an absolutely different level. You can watch Games broadcasts not only on TV but also through various gadgets. You can follow the latest news on social media and support the athletes directly- by reaching out to them on their web spaces.

Here is how some Twitter users do it:

@Ianhwatkins:" Gutted for @TomDaley1994 & @peterwaterfield AMAZING WORK BOYS !! #TeamGB #Diving

All in all, during the next few weeks, we all have an opportunity to experience this massive event from a completely different perspective that we never had before.

This time around public and also sportsmen and women who take part in the Olympic Games tweet about everything: from the photographs of the bedroom wall in the Olympic village, like Rebecca Turner, to the emotions on their performance during the games like Sophie Allen who tweeted:

"Gutted to have not made the semi final tonight! but it was my first senior meet so hopefully the future will bring better things for me!"

and Adam Brown who shared his opinion on his own result:

"Happy with my swim, just a little off the pace! Not too bad for my first Olympic individual! Looking forward to the 50 on Thursday!"

Let's see in more detail how social media is used by the public and athletes during the London 2012 Olympic Games:


1. Who won, who lost…and how it feels…
Social media is where we now find out not only who won the medals, but what they feel about it. Olympic gold GB team-member hopeful Rebecca Adlington has expressed on Twitter her feeling about her first bronze medal of these Games:

"Ahhhhhhhh bronze medal!!! Can't believe it! SOOO happy it's unreal! The crowd was incredible! THANK YOU to everyone, your support is amazing!"


2. Thanks us…supporters…
Lizzie Armitstead used Twitter to say thank you to her supporters and to describe how important their support was for her to be able to win a first silver medal for Great Britain:

"The best day of my life! Thank you to the thousands of people cheering who literally got me to the finish line, I'm incredibly proud of GB!"

After winning a first medal in gymnastics for Team GB in exactly 100 years, Max Whitlock expressed how grateful he is to the supporters:

"I still can't believe I am holding an Olympic medal now. The crowd were absolutely unbelievable, such a good experience"


3. Congratulate the winners …
Social media also seems to be very handy when it comes to congratulating each other…

@LiamTancock : "Great swim this morning from @CaitMcClatchey in the 200m Freestyle. Making it into tonight's semi-final. #BOOM FAST Swimming :-)"

…and congratulating your favourite Olympic participants (when you are a part of the monarch family you get an overwhelming volume of attention and national love when you make us proud)…

@digitalspy "Well done to Zara Phillips and the GB eventing team, who've only gone and bagged themselves an Olympics silver medal!"

@RegalEyes "Great dressage performance for Zara Phillips and High Kingdom at the Olympics, supported by husband Mike Tindall."


4. Show pre-competition support…
Who better knows the importance of support than the other Olympic participants?

@BeckAdlington: "The swimming starts tomorrow..Good luck Team GB especially @davidcarry @RobbieRenwick @HannahMiley89 @mj88live just to name a few :-)"

@franhalsall : "Hope zara and the team and the horses nail it today. Such nice guys deserve to do well x"


5. Supporting their best efforts…
When they nearly achieved a medal, but still made us proud even in defeat!

@will_chair: "congratulations to tom daley, massive achievement, even if he didnt medal, considering what he's been through! #diving"

@AllThatChas: "Totally gutted for Tom. Yes, he's already a champion in sport & life. Yes, they did amazingly. Yes, still love him. But...gutted. #diving"


Well so far we can all see that social media has revolutionised the way we consume the latest Olympic news and enjoy our favourite sports. With more than half of the Games still ahead and the Paralympics to follow, everyone still has a chance to find their preferred social media channel and stay on the ball!

At Ebuzzing we will be keeping a close eye on the Olympic and Paralympic Games and will do so with the use of social media.

Join us and stay tuned into the Games this Summer!