SO-VI-MO: The Ebuzzing Group's strategy
Read on for an insight into the Ebuzzing Group's strategy, from Group CEO, Pierre Chappaz:
Within the Ebuzzing Group, I am the coach for a team of entrepreneurs, developers, and sales people determined to innovate and think big. We currently have more than 200 employees in 6 European countries. One third of our workforce (60 employees) is made up of developers, which just goes to show how much resource is dedicated to our in-house technology.
SO-VI-MO: The SOcial, VIdeo and MObile web
Without a doubt, the three big trends of 2012 are social, video and mobile.
As a social media and advertising group, we develop technologies which allow brands to distribute their social video campaigns in the most effective way, and offer internet users innovative (or some might say revolutionary!) services for both desktop and mobile.
Video is everywhere!
Internet users are watching videos on YouTube and Dailymotion, but also on blogs, media websites, Facebook, catch-up TV sites… and of course brands are following the trend: currently online video is the fastest growing advertising format.
The online video advertising market already represents €1bn in Europe and according to Forrester this figure will triple by 2015.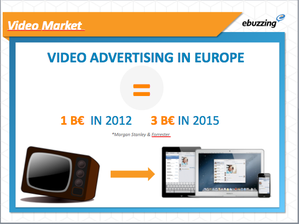 Video advertising is at the heart of the Ebuzzing Group strategy
With a turnover of €40m this year - predominantly from online video distribution - Ebuzzing is the number one social video player in Europe.
We have an absolutely unique offering with a wide variety of video formats, which encourage user engagement. With a wide range of distribution networks (blogs, online communities, media sites, Facebook games), advertisers we work with are able to reach the most relevant online communities with their social videos.
More than 2,000 brands work with us in Europe and all over the world, benefitting from our targeting and monitoring services. For a better understanding of our analytical tool, which tracks the impact of our social media campaigns for clients, visit Ebuzzing Labs! As a public version of the tool, the Labs are only the tip of the iceberg in terms of what our technology can do.
The technological element of our video distribution service is essential to our business. That's why we define the advertising service offered by Ebuzzing as a distribution platform and not an advertising agency.
Social platform innovations: OverBlog
The new version of OverBlog, which launched only a few days ago in New York, has sparked interest from all over the world. Stars of the global blogosphere have already migrated to the updated platform.
We dream of transforming this interest from blogging critics into a worldwide hit. The quote from Hergé, which I have highlighted at the top of my blog, has never been truer: "Only those who believe in their dreams can make them a reality."
Equipped with an intuitive, user-friendly design, the new OverBlog is the first blogging platform to allow bloggers to bring all of the content they post on the social web into one stream, which up until now has been split between a multitude of social networks and platforms for video or photos.
OverBlog allows content creators and curators to build their audience and social influence from one digital home.
Don't be afraid of these words: OverBlog is a revolution. Following blogs, we now have OverBlogs. An OverBlog can be defined as "a super-sized blog!"
A new, more social version of Nomao, the geo-localised search engine, has arrived
Our developers have been working like crazy to ensure the launch of the new version of Nomao.
With our recommendation engine, users can share their favourite places with their Facebook friends: restaurants, cafes, bargain shopping tips, etc…Once you try it, you'll be hooked!
Mobile?
In a few days we're going to launch our new mobile versions of OverBlog and Nomao. Get ready for a new SO-Vi-Mo revolution.