With only 8 sleeps to go we're sure most of you have got your Christmas shopping bought, wrapped and under the tree. But for those of you who are less well-organised we've taken a look at the top Christmas gifts mentioned on Twitter this year and where you should buy them.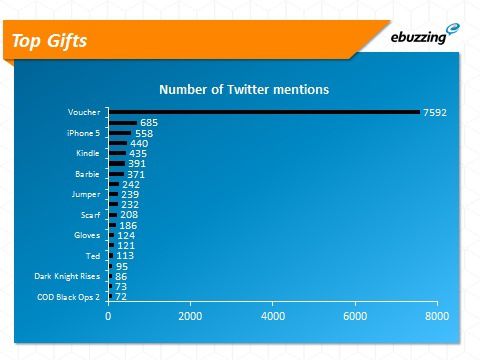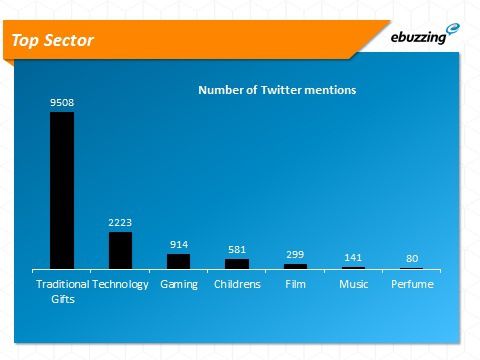 The most popular 'gift' this Christmas is the voucher. Considered the perfect present by many, vouchers were mentioned in over 7500 tweets – more than six times the second most popular present, socks. Surprisingly traditional items are mentioned far more often than their more modern counterparts. The traditional gift category is mentioned the most, above technology and gaming. Teddy bears, Barbie dolls, jumpers, coal, scarves, gloves and Lego all feature in the top 20 gifts (although we don't recommend the coal as a present!).
The technology sector is the second highest performing, with over 2200 mentions. Apple demonstrates its dominance and does particularly well. The iPhone 5 is the most mentioned gift followed by the iPad HD in second and the iPad mini in 8th. The Kindle also sees off strong competition from Nook and comes in second place. Gaming is the next most popular sector, the two main games consoles come in first and second with the Xbox 360 beating the PS3 to first place by 65 mentions.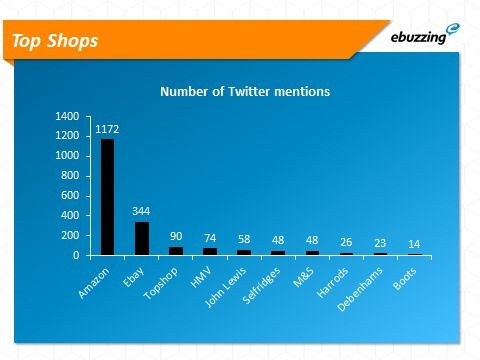 The top shops mentioned are Amazon, Ebay, Topshop, HMV and John Lewis. Amazon is by far the leader in this category, with more mentions than the rest of the top 5 combined. Ebay then follows with nearly four times more mentions than third place Topshop. This trend is to be expected as it reflects the change in shoppers' habits as they move away from the high street to online shopping looking for the best deals.
Happy Shopping!