Who will win this year's X Factor?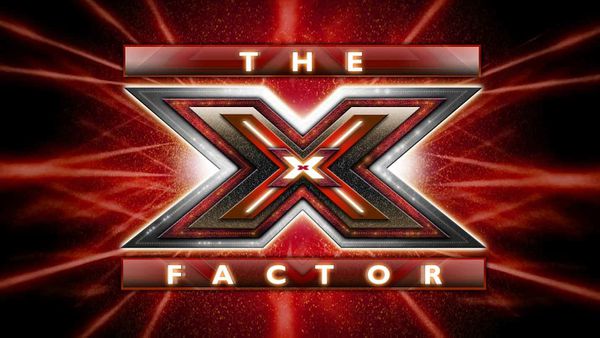 This weekend is the final of series 9 of the X Factor, James Arthur, Christopher Maloney and Jahmene Douglas will be competing for the title of X Factor winner (and the record deal).
The show has always sparked a huge public response and this year has been no different, with controversy surrounding Ella Henderson's early exit and Christopher Maloney's phone voting. Here at Ebuzzing we decided to look at the Twitter response to each of the remaining contestants to predict who will win this year's final.
Generally the percentage of tweets that each contestant received has been fairly straightforward. The favourite, James Arthur, consistently received the most mentions with 53.4%, followed by Christopher Maloney with 35.8% and trailing behind is Jahmene Douglas with only 10.8%.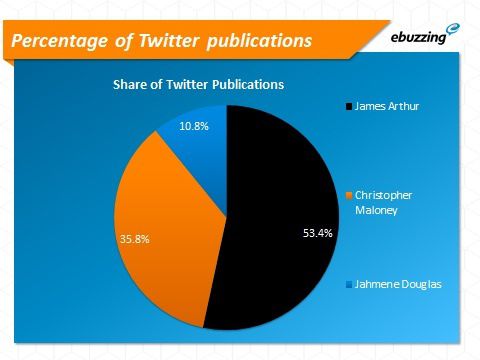 However it is when we consider the tonality of the tweets that it really becomes interesting. We looked at a random sample of 3000.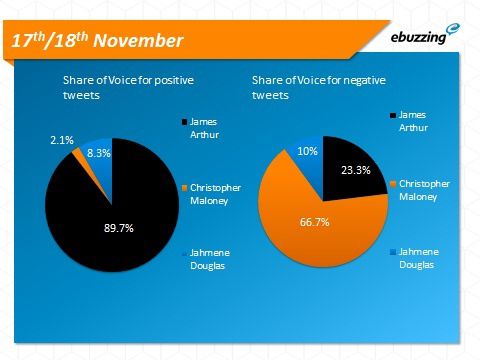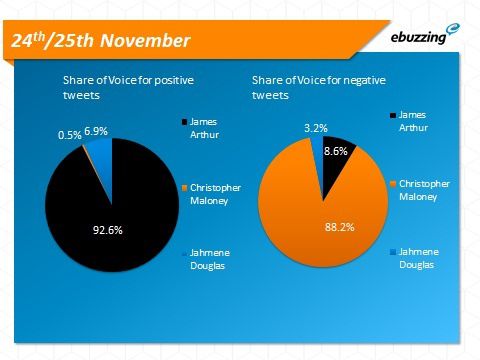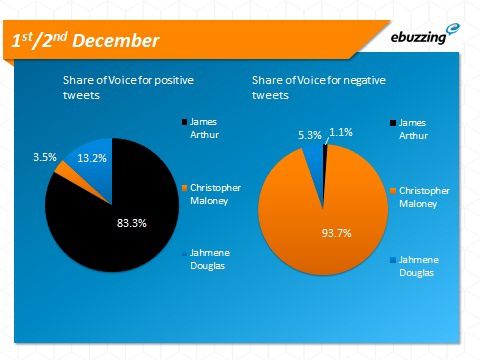 Looking at the share of voice over the three weeks it's clear that James Arthur is the most popular contestant, receiving between 83% and 93% of the positive tweets. At the opposite end of the spectrum Christopher Maloney is clearly the contestant viewers love to hate, at most he received a tiny 3.5% of positive tweets and a staggering 93.7% of all negative. Jahmene Douglas is the man in the middle, receiving tweets that are more positive than negative but they're nothing to write home about.
Logically James Arthur is the man to beat, when it comes to the final viewers will vote for their favourites (and many Christopher Maloney haters will vote for Arthur as he is the most likely person to prevent Maloney from snatching it). However X Factor has often suffered at the hands of social media, a Facebook campaign in 2009 pushed Rage Against the Machine to number one over winner Joe McElderry.
It's definitely going to be a really close final between James Arthur and Christopher Maloney (sorry Jahmene) but Ebuzzing thinks that James Arthur will emerge as winner. He has consistently featured in both the most tweets and the most positive tweets, and after his shock bottom two appearance X Factor fans know that they must vote for their favourite if they want him to succeed.
We'll be tuning in on Saturday to see if our prediction was correct!